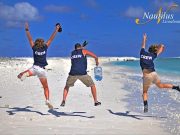 About Nautilus Liveaboards
Nautilus Liveaboards operates long range charter divevessels from bases in Cabo San Lucas and Ensenada, Mexico. We are a worldleader in the dive industry and have been running dive trips for over 25 years. 
Nautilus Liveaboards is an Equal Opportunity Employer. Someof our staff have disabilities that may require accommodation on the part ofnew employees. We maintain zero tolerance for sexual harassment, racism of anykind, drug use or alcohol abuse.
Jobs From Nautilus Liveaboards